Prerequisites for an explosion to occur
The term "explosion" refers to the exothermic reaction with oxygen of a combustible substance or a hazardous and potentially explosive atmosphere, in which a large amount of energy is released.
Depending on the speed of the combustion process, we speak of deflagration, explosion or detonation.
The danger increases with the speed of propagation, with detonation being the most dangerous situation of all.
There is a risk of explosion whenever flammable gases, vapors or dusts are mixed with air or oxygen.
This risk does not only affect chemical or mining industry facilities: a liquor bottling plant with high alcohol content or a grain silo are also potential sources of explosion.
Any uncontrolled explosion poses a potential risk to people's health, physical integrity and life, as well as causing serious material damage.
Combustible substances in the form of gases, vapors, mists or dusts and closely mixed with oxygen create potentially explosive hazardous atmospheres which, in case of ignition, can be dangerous for the safety of persons and the environment.
The ignition energy required varies considerably from one substance to another.
Ignition sources
To ignite a potentially explosive atmosphere requires an ignition source that provides the minimum necessary energy.
Some ignition sources are:
- SPARKS AND ELECTRIC ARCS
- HOT SURFACES
- ELECTROSTATIC DISCHARGES
- ATMOSPHERIC DISCHARGES (LIGHTNING STRIKES)
- SPARKS CAUSED BY FRICTION
- MECHANICS AND IMPACTS
- ELECTROMAGNETIC RADIATION
- ULTRASOUNDS
- ADIABATIC COMPRESSION (SHOCK WAVES)
- IONIZING RADIATION
- OPTICAL RADIATION
- CHEMICAL REACTIONS
- FLAMES.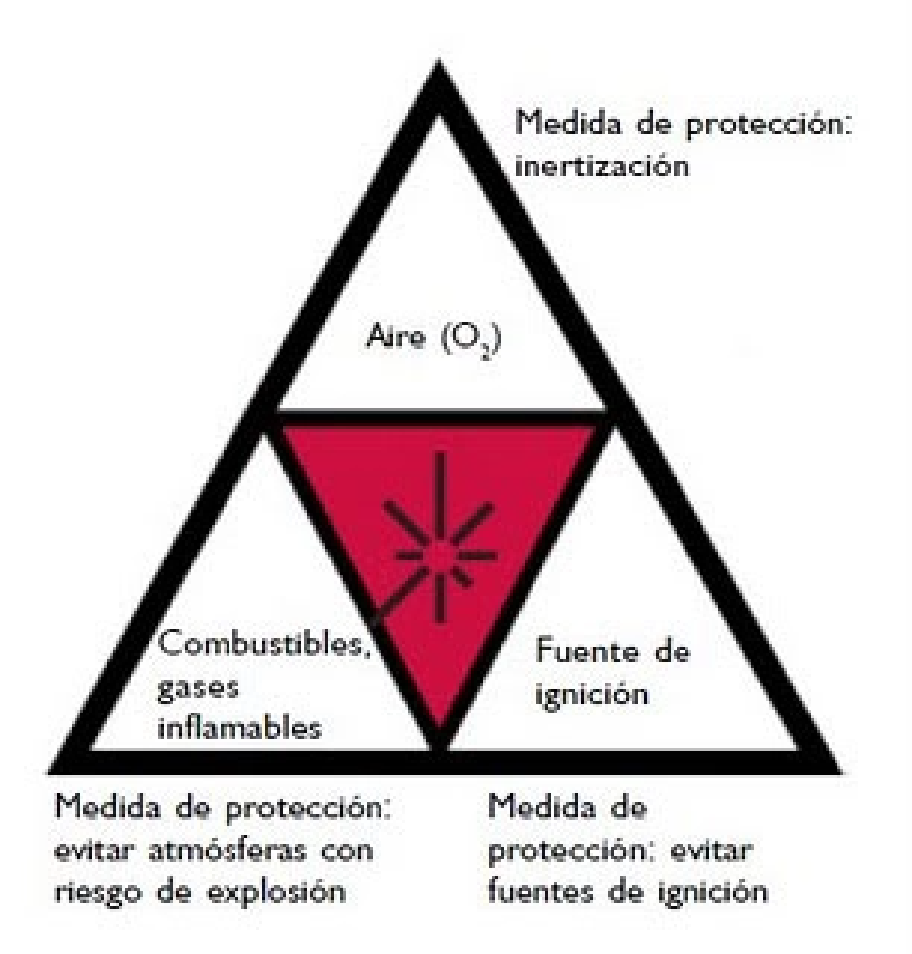 Secondary explosion protection (Ex) counteracts these ignition sources.
Mixes
The ratio of combustible substance to available air is considered hazardous when it is in the explosion range.
The limits of this range are called upper and lower explosion limits, outside of which no explosion can occur.
Zones
Areas where there is a risk of explosion are classified into different zones depending on the frequency with which a potentially explosive atmosphere occurs and its duration. There are now regulations that establish the requirements that equipment must meet to be used in these specific areas, as well as methods for verifying its compliance with these minimum requirements.
The definition of these zones provided by Community Directive 1999/92/EC is as follows:
The probability of a potentially explosive atmosphere decreases with increasing distance from the source of the hazard.
For this reason, the area adjacent to Zone 0 is always considered Zone 1, and the area adjacent to Zone 1 is always considered Zone 2. To understand this, nothing better than the example of an airplane refueling: the airplane's fuel tanks are located in the wings, i.e. Zone 0.
In the classification by zones it is necessary to distinguish between gases and dusts, mainly because dust, as it is deposited on a piece of equipment, forms insulating layers that can increase the working temperature of the equipment to dangerous levels.
The US NEC 500 standard, in addition to distinguishing between gases and dust, takes into account different types of fibers.
The following systematization in class I, II and III is quite illustrative.